Notice to Clients:
This is a difficult time for us all. Rest assured, we are still open and available for all of your legal needs, whether it's a DWI or criminal defense case. New Jersey Superior & Municipal Courts are still handling criminal matters via telephone and video. If you have an indictable charge, you will still have court. Your case will proceed and you still need a criminal defense attorney. For your convenience and peace of mind, Attorney Christopher G. Porreca is available for telephonic and or video consultations. Our initial consultations are always free and we are available 24/7. We look forward to hearing from you.

New Jersey Criminal Defense Lawyer
Have you been accused of a crime in Parsippany or Morris County?
If you are facing criminal allegations or an investigation, enlisting the representation of a credible and aggressive defense attorney may be your only chance of staying out of jail. At The Law Offices of Christopher G. Porreca, P.C. I am whole-heartedly dedicated to giving clients the best legal representation I can offer. From 2006 to 2011, I was included in the Super Lawyers ® list published by Thomson Reuters as a "Rising Star" among lawyers under 40 in the state of New Jersey. I am ready to provide you with the aggressive defense you need to move forward with your life - once and for all.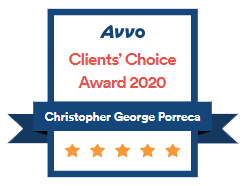 Contact The Law Offices of Christopher G. Porreca, P.C.
Your case is important. If you are facing criminal allegations of any kind, your future, reputation and freedom are at stake. That's why I am ready to handle any criminal case that comes my direction. Not sure if you need a lawyer? Call me anyway and schedule a free case evaluation so that I can review your case and help you understand your legal rights. The sooner we talk, the faster I can begin assembling an effective defense strategy for you. Contact a Morris County criminal attorney today to discuss the details of your criminal case in New Jersey!
Get the experienced New Jersey defense you need - call (973) 889-0900 today to request your free consultation. Payment plans offered.